Here is a list of of some of the Best IAS Coaching Centers in Mumbai. You can select among the best IAS Coaching center in Mumbai for your needs after you have enquired from local students who have taken guidance from such Coaching Institutes in Mumbai. We hope the listed IAS academies in Mumbai will help and guide you to find the best IAS academy in Mumbai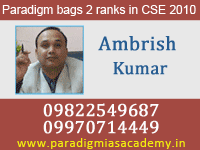 ---
IAS Coaching Centers in Mumbai
PARADIGM IAS ACADEMY PUNE/MUMBAI/NAVI MUMBAI*****
Paradigm Currently Operates @ Pune(Shivaji Nagar),Mumbai(Vile Parle East) and Dadar,Navi Mumbai(CBD-Belapur)
Address: Harvard Hall, Hotel Transit ,Near Mumbai Domestic Airport, Off Nehru Road,Vile-parle (E), Mumbai
State: Maharashtra
Phone: 0-9822549687,09970714449
E-Mail: contactus@paradigmiasacademy.com, mohiniparadigm27@gmail.com
Web Site: www.paradigmiasacademy.com
Message:Delhi level coaching in Mumbai/Pune with support of rich and adequate exam oriented study material and notes under the guidence of Mr.Ambrish Kumar (Faculty from delhi). Subject offered - General Studies, Public Administration, Philosophy, Political science and CSAT for prelims. Medium both in English & Hindi available. Paradigm IAS Academy also offers guidance for UPPSC, BPSC, RAS, CGPSC, JPSC and Uttrakand public service commission. WEEKEND BATCHES AVAILABLE. Free informative session at 10:30 AM every Saturday in PUNE and Sunday in Mumbai by appointment. Corresponded course also available.
---
A. A. SHAH'S IAS INSTITUTE, MUMBAI*****
Address: Guru Kripa, Bahubali,Cawasji Patel Street,Behind People's Book House,Fort, Mumbai- 400 001.
State: Maharashtra
Phone: 022- 2204 4777, 09004078746
Web Site: www.aashah.com
Message: Courses Offered: Foundation Course for Under-Graduates, General Studies Pre-cum-Mains, Optional Subjects & Interview Training.
Optional Subjects offered for MAINS: Public Administration, Sociology, History, Geography and Political Science.
IAS 2013 BATCHES ADMISSIONS ON WEEKEND BATCHES also Available. IAS Exclusive BOOK HOUSE at all Branches. Free Counselling Sessions For IAS Aspirants by Appointment.
Email: aashahs.ias@gmail.com
---
Lakshya IAS Academy*****
Address: 21/b, om swati manor chs. j k sawant marg dadar, west, mumbai 40028 opp Shivaji Natymandir
City: Mumbai
State: Maharashtra
Phone: 9223209699,9820971345
Website: www.lakshyaiasacademy.com
E-Mail: ajitpadwal@gmail.com
---
ROYAL IAS ACADEMY*****
Address : IInd Floor, B-325, Shanti Shopping Centre,
Opp. Railway Station, Mira Road (E)
City : Mumbai
State: Maharashtra
Phone :09869030448/09833374933
Website: www.royalias.com
Email : vp_shahi@yahoo.com
Message: Advance level & Exam Oriented Study Material Available. Weekend Batch is also Available.
---
ANALOG IAS INSTITUTE *****
Address: House No: 1-2-288/32, 2nd Floor,Indira Park 'X' Road, Domalguda,Hyderabad – 500029
City: Hyderabad
State: Andhra Pradesh
Phone: 040-64590440, 9912441137
Website: www.analogeducation.in
E.mail: ias.analog@gmail.com
Contact person: Sravanthi
Message: ANALOG IAS [The Right choice of Achievers] -The only Institute in Hyderabad with REAL orientation to UPSC Trends. Has the distinction of producing All India Rank - 1(Revu Muthyala Raju) from Andhra Pradesh. Lectures taken by DELHI'S Experienced and Reputed faculty.
Public Administration - R.C.Sinha [Ex-IPS, Director of New Delhi IAS], Mathematics - Srikanth Vinnakota[Director of Analog], Sociology - Saroj Samal[MA Gold Medalist], Anthropology – Vaid[Prominent faculty of Delhi], History – Prof. Tarique[No1 faculty of Delhi]
General studies - R.C.Sinha & Team, CSAT - Srikanth Vinnakota [India's Maths Expert] & Team.
---
Mumbai Institute for IAS civil service examination preparation*****
Address: 216/B sahnt shopping, opp railway station, mira road
City: Mumbai
State/Province: maharaashtra
Phone: 9323077538
Web Site: www.mycivilservices.com
E-Mail: info@mumbaicollege.com
Contact Person: mr vijay shahi
Additional message: Preliminary and main exam. General studies, sociology etc. FOUNDATION COURSE for Under graduates .Rrgulasr evening as well as Weekend Batches.
---
Academy of Competitive Examinations*****
Address: 401, Upkram CHS, Plot no. 45, RSC 48, Near Status Hotel, Gorai II, Rajyog Rd. Borivli West.
City: Mumbai
State: Maharashtra
Phone: 9820242924
E-Mail: aceacademy07@gmail.com
Message: Excellent coaching for G. S., Political Sceince and Public Administration. Help in other subjects also.
---